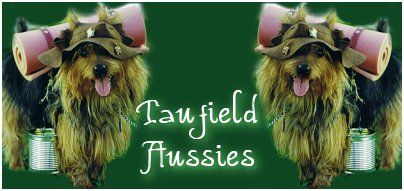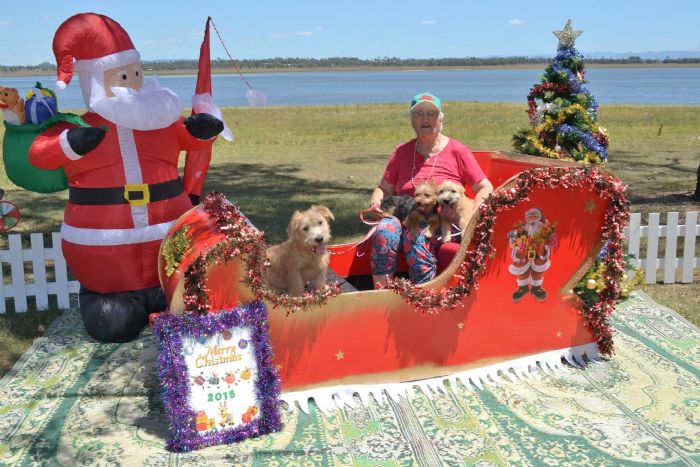 ABOUT ME I was born and bred in Dunedin Sth Island New Zealand. My first time in the ring was as a child handler at The Otago Cocker Spaniel Club, which I won. I have always loved dogs and my first dog was an Irish Water Spaniel. When I married I went to live in Taupo Nth Island NZ. where I joined the Taupo Obedience Club and competed in Obedience until my marriage came to an end and with 4 young children dogs went by the board. In time I remarried and started to go to shows with a friend and her St Bernards. When my husband and I moved to Australia to live I decided I would like to get back in the ring, but due to my husbands illness was not to be. He died in 1993 and a friend took me with her to a dog show and I went to watch the Aussies and met a lovely Lady Helen Rowney who had a litter due and I put my name down for a show bitch, "Redgundi Sara Lee" came into my life and I have been showing and breeding the Aussies ever since. My only regret is it took so long to get this wonderful breed.
I have had success in the ring and have titled 51 Champions 40 HOMEBRED. 12 of these have been owned and shown and titled by other owners. some of these are also NZ Champions also I have titled 8 aussies bred by others also 2 Glens have been titled under my prefix Taufield one by me and one by a friend Kim Farthing
I am proud of the quality and the temperaments of the dogs I breed.
I have also Titled an Irish Water Spaniel Ch Willowbrae My Folly and more recently My 2 "Glen Of Imaal Terrier" Aus/NZ Ch Chas Astri Mi Astri and Ch Kiadale Wee Fallon and recently My Homebred boy Ch Taufield Brackens Boy
I have since bred and Titled 2 more Glens Taufield Queen Of Tara and Taufield Tullamore Dew
and more Aussies as well
======================================================================
In light of the recent bushfires I thought I would share with you my Maternal Grandmothers brush with a bush fire in NZ = my Mother was 11mths old at the time.
A BRAVE WOMAN
20.1.1914
(How a settler's wife fought the flames. From the Evening Star January 13th 1914. )
A correspondent graphically describes in the news tonight an example of a woman's heroic conduct and endurance during the extensive bush fires wich raged in Southland last week.
Mrs Mark Riddell fought for between six and eight hours to save her home and effects from destruction at Orepuki. Mr Riddell who works at a saw mill several miles from where he has settled down left early for his dailt toil and as there is a small patch cleared all around the house, he had no fear that the bits of stumps which were smouldering would be fanned later into a little furnace. However, every bit of wood about the place took fire and showered sparks upon the house. Nearby, blinded by the smoke Mrs Riddell stuck to the task putting water on the stumps and logs here and there. Added to this she had five young children to watch the eldest being only seven years of age. The little ones added their mite as their blistered litlle arms and hands show. Mrs Riddell's clothes several times caught fire and one can imagine what a grim task she had in that bush and all alone with her children desperation urging her on to try and save their all. But her efforts were in van. The house caught and went so quickly that nothing could be saved but a sewing machine. The fire which had travelled for over a mile came leaping through the green bush. The position was desperate. Taking some of the little ones in her arms and dragging others Mrs Riddell went into the bush up the Hill untill she got out of the track of the fire, and after several hours started to find a track out, when she was met by Mr A Brookes. He says it was a miracle she got away from that fire with those five children. It seems like the irony of fate that Mr Riddell was fire fighting in another part of the district and actually put the fire out at another Man's house thus saving it. There was no insurance as there was not a brick to the house there being no road in. This is a case of real hard luck.
FOOTNOTE == News Office to assist the family.
LETTER FROM SUE (MRS RIDDELL) TO HER PARENTS
COPY OF SUE'S LETTER.
Orepuki 21.1.14
Dear Mum and Dad,
I know make a start to tell you about the fire. I did not write on Sunday as promised as I was not well. I was a bit knocked out and had a bit of a fright, but am well now and so are all the rest of us. We have had a hard blow but I suppose that we will have to make the best of it, no use growling as we were fortunate in getting away with our lives, but I do not know what we are going to do yet. I just hate to think about it. I would not have felt it so bad if I could have saved my wedding presents and photos. If it was only what we had bought well we would just have to start off scratch again. We are staying at Butler's just now. Clemmie is at Harrington's and Bob at Fraser's and I am going to let Jack go to Ferguson's tonight. Ethel was coming for him tonight but it was too wet and Jo is going to Slaighter's. Mark pitched a tent up on the fram and as soon as he gets some bedding etc., in he is going to camp there and start to build again. He walks from here at present but it is toofar and he can't do anything at night when he has to come such a long way home. We had a horrible experience.
I will now try to tell you all about it but I could tell you better than write it. Well, in the moring Mark went to work as usual and when Mr Brookes came along he set fire to some dry scrub and the sparks from this caught dead logs and stumps and warmed things up a bit. Then a strong wind got up and as the Orepuki Shale works were on fire this fire spread at a great rate and came right up the tramway. There was miles of fire, and the wind was so strong and the day hot, it just took everything in a face, green bush and all, the same as in Australia. It is the first such case to happen here as usually, in fact always, the trees have to be left a long time to dry before it can be burned at all. Well the wind was coming straight for the house and about 8.30 in the morning the bridge caught fire. I put it out several times and kept the kiddies inside for a long time as the heat and smoke were awful. Then sparks caught all the old stumps and the peat and punga tracks. Then the bridge caught properly and the tool house and all the other outhouses. I fought it all day long thinking the men would see the smoke, but they never thought of me at all as we had all our felled bush burned befoer Christmas and thought we were quite safe. Jo helped to carry water for a long time until she began to get scorched so I got the kiddies onand down before the bridge on a little grass plot, you know Mum where the potatoes were last year. After I got them out the firegot worse and everything about the place caught. At last I thought it impossible to save the house so started to get my wedding presents and photos and jewellery. I got out the machine and the drawers of the duchess two clocks the marble one and the blue one, the silver egg cruet but not complete (one egg cup and three spoons missing) Mrs Islips sugar scuttle and the silver stand of jam dish, Dick Thurlow gave me and one set of carvers, and three paintings. I had most of the silver in a big box and the photos too. I tried to get them out but when I went to go into the bedromm for them it collapsedand it nearly had me to but I escaped and abandoned the house at 25 to 4 after being at it all day. If there had been a dozen men there in the finish they could not have saved the house but they would have got a lot of the things out. We were in a nice fix as there was fire on three sides of us and a raging awful fire at that. We could not get up or down the tramway as it was on fire too, so the only way we could go was straight up the hill and the fire was coming after us at a grate rate too. It was such a terrible gale too, great limbs of trees were falling all around us and I thought every moment some of us would be killed. We got to the top of the hill the fire still following at an awful rate. It was horrible, when it began to rain so kept it from spreading much more as it was a very heavy downpour. The rain saved us as it would not have been not have been possible to keep ahead of the fire more than a quarter of an hour longer. When the men came alond about 5 o'clock they got a fright as we were not to be found and no house or bridge. Everything was burned even the growing potatoes were roasted in the ground and there was only 25 of 100 fruit trees escaped. The rest were burned up and every blade of grass, fences and everything over the ground itself was burned. Messrs Brookes and Fraser helped me and Brookes waited on Mark and Fraser brought us out to Orepuki wet, drenched to the skin every one and no clothes. We soon got fixed up and everybody has been so good to us but it is awful and I can't think two steps ahead of me. This is all I can say just now it is such a sore subject to write about but will give you some idea and I'll ezplain it all to you when I see you but we are all well.
Love from Sue
The first time I read this it was hard to equate this very brave woman with the grandmother I knew and loved. but it shows how brave we can be if the circumstances are such. My grandmother would have been about 34yrs of age at the time of these fires. My grandfather Mark died in 1919 during the spanish flu epidemic. Mum told me tales of that time and the quarantine they were under. Granny died when I was 13yrs old she was in her seventies. I am proud to have had such a grandmother.