Photo is of TAUFIELD MIGHTY DASH O TAIL (Dash) DOB 3-7-2008
SIRE == Ch Taufield Mighty Mouse ==== DAM == Ch Taufield Tail Tella (Imp NZ)
_____________________________________________________________________________________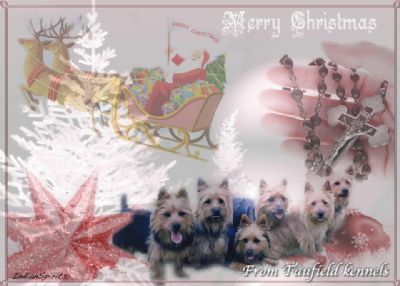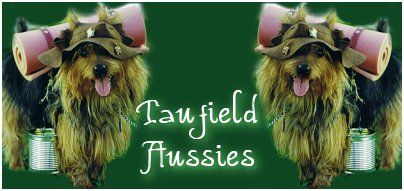 FOR ALL THE INTERESTING BITS OF NEWS OF ME AND THE DOGS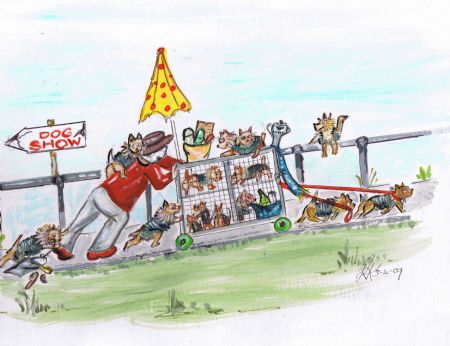 THE JOYS OF DOG SHOWING
A cartoon by Rose Komduur (Qld)

for those who know Toowoomba grounds you will recognise the path I'm sure

Thank You Rose for the joy of owing this cartoon
2013
JAN A new year beckons and hopefully the kids will go well I have rehomed Reilly (glen) to a show home so hope he goes well as I think he is a nice dog and it is good to see more glens in the ring I will only have bracken myself but will take his mum out at times to up the numbers a little.
well the first shows are under our belt and the kids behaved well Tabitha has decided not to put her ears up so will be out of the ring I will keep her for a few months to see if ears do come up if not I will rehome her. Miss Y is going to Mackay to Mel to be shown for awhile up there until Scarlett goes up for her litter with Mel. Bracken is going ok in the ring shame the judges just don't look at the rare breeds much (unless you have the money to advertise them with big coloured adverts) sorry I am getting a bit cynical in my old age. the Aussies have started well Jet the imp needs one more challenge for his Aus title. so hopefully soon Bear is doing well Goldie played silly beggars in the ring so lost. Zed is his happy self and is in lust to all the girls in season shame he can't have them still life is going well at the moment
I am trying to get more glens into the country so we can have more pups in the ring but having trouble with contact so hopefully will hear from her soon so we can get things underway.
I am so pleased that Fallon was rising star Glen of Immal (dogzonline pointscore 2012) and I was Breeder of The Year Australian Terrier (dogzonline pointscore) had a good year
MAY It is awhile since I was on here and lots have happened first I had a fall and dislocated my shoulder it is slowly healing and as I am not allowed to drive I am basically stuck at home except for the help of good neighbours to take me shopping. I missed a few shows so took me longer than I thought it would to finnish off my boys Jet "Ralindi Fly Scotsman" is now an Australian Champion and is the FIRST AUSTRALIAN TERRIER IMPORTED FROM THE UK TO BECOME AN AUSTRALIAN CHAMPION very proud of our boy Jet is co-owned by Sharon Gilkison of CLIFTOP Kennel and I have also had the delight of Bear "Taufield Golden Edition" becoming a champion in style he was CHALL DOG then BEST OF BREED 11pts and then HE WAS INTERMEDIATE IN GROUP. so proud of Bear he showed his little butt off then news from Mackay that Miss Y "Miss Y Ynot" got her first pts in minor and was also MINOR IN GROUP what a great weekend.
Bracken is feeling his oats he is almost 9mths old and is going through the naughty puppy stage chewing anything not nailed down he is still my sweetie but is getting very strong and with my bung arm at the moment I have trouble controlling him on lead friends have to show him and he is misbehaving for them.
well guess that is about all my news for the moment I will have 5 babies in the ring from the 2 litters they will be just old enough for the Aussie Show the boy is going to Mackay and will be shown 2 girls from each litter will hit the ring I have 3 of Warts still to sell
AUG Well lots have been happening first I can drive again and am pleased though my arm is slow to heal I have to keep exercises going though don't have to go back to physio anymore have Dr's visit in Oct had to have an MRI to see why it was not healing properly and have torn something inside bits that hold the bones together so it is a slow process get frustrated when I do stuff then have to stop before I can get much done but will get there eventually.
Dogwise have had the Aussie Club shows and entered 8 dogs Jet, Bear, Miss Y, Scarlett & Faye and 3 babies had 5 babies in total entered from my 2 litters 2 of Xena's and 3 of Wart's Xena's 2 were 1st & 2nd one went to Melbourne to a show home the next day Open show I did not do well in classes but got best brace & team with 3 & 2 entries respectively in the Championship show Jet was Intermediate in Show Miss Y was Puppy in show had a good day overall then 4 weeks later we were off to the EKKA with 4 Aussies & 2 Glens Jet 1st in Inter class Bear 2nd in Open class 3 entries Bling 1st baby bitch Baby of Breed Miss Y 1st puppy class Puppy Breed -- Glens Bracken 1st puppy class Chall Dog Puppy Breed Runnerup Breed Fallon 1st aust bred class Chall Bitch Best of Breed had to go back for Group & General Specials on last day with the 2 glens Miss Y & Bling enjoyed the day friends daughter Kirra helped with showing took Fallon in she looked good out there and was pleased by the time I showed the Puppy and Baby Kirra had disappeared and I never saw her again spent ages looking for her but gave up after 2 hours of wandering around looking tried ringing her mum but my phone kept telling me she was disconnected as I was speaking with her earlier in the day it was weird still I enjoyed catching up with some friends I haven't seen in awhile so all good and Kirra got home safe thank goodness.
Well Jet has finally done the dirty deed and has a litter on the ground His first babies were born 16th Aug 2013 5 females
SEPT I have decided to sell 2 of Jets girls and will keep 3 if they are good enough to show as I am a bit slower after the fall I would sell on 2 of them too show homes only at this stage
I have a few shows this month and with 2 at Toowoomba tomorrow Sun 15th Bracken my Glen boy should title he needs only 2 points so happy for that Bracken and his Uncle Murphy are taking turns on the point score so will be fun with Kim to see who ends up on top at the end of the year.
Well we are a little closer to getting Cally her rabies test is clear and just awaiting the paperwork to arrive so we can book her into Quarintine and then we wil know when to expect her.
Also it looks like I will get my Boy after all Enda has sent me a couple of photos of a beautiful blue boy 6 weeks old so we start the process again he has to be 3mths before rabies can be done so he should follow Cally fairly quickly OH JOY!!
I have 2 bitches in season and the boys are being their usual painful selves will be glad when they are finished . I have decided to get Zed desexed as I never was going to breed Norwich and the Aus Norwich community have shown no interest in using him so for my peace of mind it will make life easier in the long run.
I have been slack with my website too much time on facebook I think will have to change that I must admit I find FB boring but it is the only way to see my grandkids still I have decided less time on that amd more on my website I need to tidy up some of the pages and sort out my photos and things my waffle for the day
2014
JAN Happy New year everyone well time has got away on me and it is almost the end of the month already had a quiet Christmas Xena was sick and had to go to the vet's on Christmas day and was there for a week she is fine now and her old self again. Mouse took over duties and let the pups feed on her Mouse's pups were just on 8weeks and Xena's 6 weeks was hard on them and feel they have not grown as well in the last few weeks though are sturdy enough and look nice will show a girl and boy from them. was at Burnett Kennel Club last week and Miss Y was BOB both days and on the second day got her Aus Championship so pleased with that a good way to start the year
MARCH Have been busy showing the dogs and they are going well my new blue/tan babies Warrior & Princess are showing well first 3 shows Warrior was baby breed and last 2 Princess was baby breed with a baby of group as well and Baby breed at Toowoomba Royal very happy with them. Xena has gone to Lauren Lobegieger and is starting to do agility Wart has gone to Debbie Schaeller and will have a litter for her then come back home desexed and stay here forever (I do miss her) Scarlett had a visit with Mel Moore (Littlereds) for a litter she came home on fri 28th mar with one baby who I have fallen in love with on sight 9weeks I have decided to call her Lettie awaiting the paperwork so I can show her in May Bling is starting to go well had an off period but has come back now and had Bitch Chall 10pts at Toowoomba Royal so had a good day at Toowoomba in the ring but it was raining nearly all day and I got bogged along with about 4 others and had to be towed out still I got home in one piece.
Bracken (glen) has had hotspots with this last lot of rain & humidity his neck is a mess but after a visit to the vet is improving had his coat shaved off so won't be at the Nanango Show
News on the imports Callie and Baron are booked with quarantine for 25th July and only 10days then home so will be here at home around the 3rd Aug and then we will be able to get some litters on the ground at long last
2015
DEC I have been very slack on my website MY NEW YEAR RESOLUTION will be to get on my website more and less on FB Callie & Baron arrived finally in Aug 2014 and settled in well Callie loved everyone and got on with everyone Baron was anti everyone except Callie & Fallon In Sept 2014 I went to Ireland and had the most wonderful holiday with Linda who has my Brackens father.
in 2015 we got Callie out into the ring and she is now an Aus Ch Baron could not be trusted as he hunted my babies like prey and I was not going to take him to a show where he would want to chase the small dogs at a show I had Baron collected and we have 3 breeding units and I also mated him to Fallon and we got 5 pups 2 girls 3 boys Callie was mated too Bracken and had 2 girls 2 boys I kept a wheaten girl from each litter
Mimi (Cliftop Anzac Memories) came to the Anzac day ceromony April 25th her 1st birthday and we laid a wreath for Paddy the Australian Terrier who was at Gallopoli and died in the Aug after being shot by Beachy Bill.
Mimi was not a show pony so I decided to mate her to my T Space Warrior "Warrior' she had a lovely litter of 7 1 boy and 6 girls I kept one girl whose pedigree name is Taufield Memrys R Maid Of This (call name Tiny) she has the loveliest of natures and Mimi was desexed and sold and is being spoilt in NSW
next year I will be having fun with my 3 little ones Tiny , Tara, Tully -- Tara's pedigree is T Queen Of Tara and Tully's is T Tullamore Dew
Christmas is getting closer and another year will be gone I will enjoy my kids next year and hope the judges will start to look at the glens instead of ignoring them as if they were not even there It would be nice but I will enjoy them regardless of what happens in the ring
I will close now and be back in 2016 for all the news
29th Dec Had a lovely Christmas day with the dogs an enjoyable phone call from the family in Christchurch with lovely songs sung by the girls I had some nice presents I am now getting ready for the New Years Day Show to start 2016
HAPPY NEW YEAR EVERYONE
2016
JAN
Well it was Australia Day yesterday and I just stayed home Dogs started well first show was Lockyer Valley K.C. Jan 1st the baby's went well Tully was glen Baby of Breed Tiny Aussie Minor of Breed and enjoyed the day the following week went to Darling Downs K.C. Tiny was minor of Breed Again the Glens Tara was Minor of Breed and then with stiff competion was Minor of GROUP so happy and to have a judge who knew what he was looking at and Tully was Baby breed and very naughty in the ring following week Tara was naughty in the ring did get her 2nd chall BOB but judge was not impressed with her or Tully who was Baby again Tiny was Minor of breed again up against dogs a lot older than her still it was a quick day and was back home by lunchtime
I have mated 2 of my girls Goldie to Paddy and Princess to Sonny goldie is in pup and due middle of Feb and Prinny starting to look like she is Prinny is due 1st Mar also had 2 bitches come for matings one to Sonny and one to Warrior Bracken (glen) is very frustrated as he is not allowed the girls gotta feel sorry for him Callie went to NSW to her other owner Kim and is now in whelp to Kim's boy Murphy and she has also mated her girl Yuki (Bracken's litter sister)
2018
FEB
I have been very slack I see thanks to FB it is time I came back to my website a lot has happened in the last 2 years so will try and catch up with my news in that regard
2020
JAN
I have decided to get back into my website this year (to much time on FB) I know it is not the done thing to have a website as everything is put up on FB I personally use FB because it is the only way I can keep up with family and friends
I had a wonderful trip to NZ to catch up with my children, grandchildren, and greatgrandchildren some who I met for the first time it was a great holiday and a wonderful catchup
I am enjoying living in Emu Park where I moved to 1yr 2mths ago on the 29th Nov 2018 I brought 5 dogs with me into suburbia Wart, Kiwi, Aussie , and 2 babies 9/10weeks age Mischief and the glen Squirt Squirt sold about a month or two later and went to live in SA where he has a new name and a wonderful life Mischief is now a beautiful 14mth old and is halfway to her Aus Champion title I showed only a few times last year 2019 and Aussie was desexed and is being shown now as a Neuter she was Neuter in show at her first outing so will get in and show them more fully this year and hope I can title them Warrior came home to me late in the year after being away on stud duties he is a sweet natured dog but him and Kiwi (father and son) do not get on so have to play swapsies
well it is now the 3rd of Jan and the new year has started the same as 2019 finished with bushfires and no rain in site I pray that the rains will come soon and stop the fires sooner rather than later
I have no shows in Central Queensland where I live now until the end of March then they will start up so hopefully I can get to more than last year
MAY
Well we now have THE VIRUS to contend with no shows after all I had mated Mischief in Jan and she was in pup with 4 people wanting a show pup in different states and then we were suddenly in lockdown and everyone dropped out from the show world anyway in March she whelped 6 pups I started to get calls and sold them to pet people except one a new one wanting a show pup so now all bar one has gone to their pet homes in QLD they are 9weeks now and the last one to go is off to the ACT so has to fly Qantas and has to be 12weeks I kept a little girl who is called Wart
lockdown is easing so thats good but when we will have shows again I don't know
My home has been put on the market by the owner so will have to now find a new home am starting to get tired of shifting but can't afford to buy so have to rent
JULY
Well House sold and I can stay till my lease runs out in NOV am looking for a new home but nothing much on the horizon just yet I did think of going back to NZ but until things get back to some nornality I will have to wait and see so looking around for a new house already packing my books and framed photos
The dogs are going well and my wee girl Wart is growing up now she will be 4mths old on the 13th July she is a very smart wee dog and is very lovable Kiwi still loves his ball and I spend a lot of the day throwing it for him Aussie is becoming the matriarch and Mischief plays with Wart a lot between them they have killed 2 stuffed toys who are now in the bin minus their squeakers
still no sign of shows coming back yet looks like it will be around end of OCT
2021
SEPT
Well lots have happenned since my last post back in July 2020 I could not find a home for love nor money and dear friends came to my rescue they offered me a home with them I moved dogs and all into their home and all my household goods into a container on 10 acres (lucky our dogs got on ok) except for my own boys (sold Warrior who is now in Victoria and well loved) and they built me a granny flat which I am now in and me and the Mutts (Kiwi Aussie Mischief and Little Wart) are now settled . I did think of going back to NZ but costs and the restrictions placed by Guv. said no maybe one day I will see my family in NZ again .
Will be updating their photos soon
2022
JUNE
I Have ​been very busy and and go days without turning on computer. Well have settled into my granny flat and although it is small I am getting used to less space and the dogs fit in so all good there I have now desexed Kiwi as he got to Little Wart and I now have 9 puppies to deal with still all bar one are sold so thats good. they are 6/7weeks old and a real handful still love them all. won't be long before they go so then back to peace and quiet (HAHAHA) I am going to spend more time on the website now as FB is a pain and I am having trouble getting on there I must admit I don't miss it though do miss seeing family. I read a lot sitting out on my verandha old and new books
DECEMBER
I have finally got back online have been having modem problems but think they are ok now
I have finally put a photo of my new home in Maryborough up.
I have a nice little home and have 5 dogs the last of my my lines
I do have i breeding unit of semen so have to decide if I use it myself or sell it I do want to use it over a particular Bitch some thinking to do for next year time will tell not sure if I have the energy anymore getting old now HAHAHA
HAve a great CHRISTMAS (Keep CHRIST in CHristmas)