PHOTO OF ASTRI and MUFFIN is by CHRIS WELLS "Indianspirits"
THIS PAGE IS TO CELEBRATE MY DARLINGS WHO HAVE GONE AHEAD
THE

RAINBOW BRI

DGE
Just this side of the Rainbow Bridge, there is a land of meadows, hills and valleys with lush green grass. When a beloved pet dies, the pet goes to this place. There is always food and water. Those old and frail animals are young again. Those who have been maimed are made whole again. They play all day with each other. But there is only one thing missing.They are not with their special person who loved them on earth. So, each day they run and play until the day when suddenly one stops playing and looks up. The nose twitches, the ears are up, the eyes are staring, and this one suddenly runs from the group. You have been seen, and when you and your special friend meet, you take him or her in your arms and embrace. Your face is kissed again and again and again and you look once more into the eyes of your trusting pet.
THEN YOU CROSS THE RAINBOW BRIDGE TOGETHER, NEVER AGAIN TO BE SEPARATED.
Author Unknown
Bouncer "AUS CH MAYMURU MIGHTY MOUSE"
20/9/1995 == 31/3/2003
Bouncer entered my life at 9wks of age and he has never left it. He was a very showy dog with a "Look at me attitude" he was full of fun and mischief loved to play ball loved his kennel mate "Muffin" and was a great stud dog from a young age, he always knew when the girls were ready and never mounted them untill then. As a puppy he bounced around the ring as if he had 1 leg front & back lots of comments from Judges about the bouncing and the amount of kangaroo juice he had and one judge was taken by him at just 3mths when he bounced and chased the crickets all the way round the ring and took him all the way to BABY IN SHOW. Bouncer in 63 shows was 1st in his class 6o times (with comp) he had lots of classes in group/show and even had a Runnerup Group. at the age of 3 1/2 yrs Bouncer was attacked by a crossbred dog and he had 14 stiches in his head he had all his hair shaved off and the pigmentaion on his nose was totally ripped off. He had a lot of pain from his pretty pink nose which I was for some time able to keep under control. at the age of 7yrs I entered him in the Veterans Sweepstakes at Inverell K.C. double show he was the only small breed entered (6 entries) on the 2nd day he was given VETERAN IN SHOW that was a highlight as only 5/6 mths later the pain was so bad I made the decision to put him to sleep. So on the 31st Mar 03 we visited the Vet for the last time. I still miss Bouncer as he was the most loving and pushy dog I have ever owned.
REST IN PEACE
BOUNCER BOOFHEAD
=====================================
TOBIAS == "AUS CH TAUFIELD TOBYDOG"
26/1/1998 == 16/8/1999
Tobias was an Australia Day puppy and although a big boy I kept him to show. He was my gentle giant. He grew to a size of 12 1/2 inches rather large (his litter sister was 10in) but some judges forgave him his size and awarded him with BOB's and classes in group. He was although oversize!! beautifully proportioned. He had the sweetest of natures and hated fighting -when the other dogs were play fighting he would go off on his own well away from them. Tobias was just 1yr old when at a show while waiting to enter the ring a bull terrier attacked him for no reason that could be fathomed at the the time (the bully subseqently attacked 2 staffys) although not hurt badly the next day at another show Tobias tried to have a go at the bullys and when he couldn't get at them decided the amstaffs would do. Over the next 6mths his obsession with attacking before he was attacked became worse and I had to stop taking him to shows (fear aggression) he then started to attack all the dogs in the backyard so I made the painful decision to put Tobias to sleep. My Gentle Giant had become a menace. it was a very sad day when we went to the Vets I held him in my arms until it was over and then took him home to the garden. Tobias was the most gentle Aussie I have ever come across he was and is still in my heart
REST IN PEACE
TOBIAS my GENTLE GIANT
================================================
SCALLY == "AUS CH TAUFIELD SCALLYWAG"
21/7/2000 == 9/10/2008
Scally was a darling from day one. he did well in the ring and his grandaughter Ch Taufield Tail Tella is doing him proud. One of Scally's best wins was at The Gold Coast whe he took BOB over a very large entry of Aussies under a WA judge (Terrier Specialist) The trophy we won is still in pride of place. In 2003 I decided to go back to NZ and Scally went to a pet home in the Darling Downs area. He bacame the much loved family pet of David Eden & Family. Scally has lived a wonderfully full life with the Eden's and in 2008 got a grass seed in his ear which by the time it was detected was too late for him Scally died in Davids arms and is very sadly missed by the family. I sometimes regretted letting him go but I know his life was filled with love and joy and that is the best legacy
Scally with his brother Warrior was 3rd Brace Stakes Brisbane Royal 2001 (14 entries) and again at the Brisbane Royal in 2002 they boys were 5th in Brace Stakes (again a large entry)
REST IN PEACE
SCALLY a BEAUTIFUL SOUL
======================================================
STORM == "TAUFIELD SNOW STORM" (NZ)
4/7/2003 == 30/4/2004
Storm was born in a snowstorm. Just after I arrived in NZ staying with my son while looking for a place to live Muffin came into season and as there was nowhere to seperate them Ima Warrior had his way Muffin whelped 5 puppies and Storm came into my life. She was a beautiful bitch and was taking Best Bitch and Best of Breed from baby class. after turning 6mths she took 8 challenges and 8 Best Of Breeds in a row. as she was only 9mths at this point she would have to wait till 12mths for that one chall to be able to become a NZ Champion. alas this was not to be at 10mths while racing around the yard she miscalculated and hit the clothes line post. she was not happy and I took her to the vet who said she had a scratch on her eye but nothing to worry about. I said she was also acting like she had a massive headache vet dismissed me as if I didn't know a thing. took Storm home and 2 days later back again vet very dismissive again so took my girl home and as I had to go to work decided to try a different vet the next morning. before going to work Storm had a fit. I put her by herself and went to work back home went to check her and found she had died,and by the look of it had had another fit. I still miss that happy puppy who was a champion in my heart.

REST IN PEACE
STORM my CHAMPION GIRL
==============================================================
DREAM == "NZ CH TAUFIELD THIS ISTHE DREAM" (NZ)
1/4/2005 == 13/4/2006
Dream was a dream puppy and loved the ring from day one. I decided she would be a house puppy so slept her in my room in a puppy pen. she had her own teddy bear to sleep with. she would throw him around but cuddle up to him to sleep. she slept a lot for a puppy but nothing to worry about. when she was about 7mths I took her in the ring and she started to pull on the lead and didn't want to walk the judge was very nice and said carry her round here to the table and after examination walked her out and back no worries we let the ring and popped her on the table and she immediatly started to fit I was upset that I hadn't realised she was so sick. although within half hour she was fine. the judge excused her from the group lineup but made sure she didn't lose her chall cert. he was very nice. the next week off to the vets and a continual round of tests until we found out she had a liver shunt. After much discussion with specialist vets and no garuantee that she would be OK as she was fitting badly by now. As I was looking to come back to Aus as this time I checked with MAF and was told I would be lucky to get clearance for a sick dog to travel overseas and I felt it would not be fare to anyone to give them a sick dog with possible ongoing problems so instead of an operation I made the decision to put wee Dream to sleep. I still have her Teddy beside my bed where she used to sleep. she did become a NZ Champion in her 12mths of life.
REST IN PEACE
DREAM my sweet companion
================================================================
FIN == "AUS CH TAUFIELD TRY N STOP ME" (IMP NZ)
22/6/2005 == 6/2/2009
Fin was a really loving puppy from a litter of 8 he was always at my feet and looking for a cuddle before starting the day. He decided he was staying and so it happened his sire was am imported dog from Finland hence the name Fin. his first show in Baby was a weekend double and on the first day was res best dog and Baby in group and show, second day he was again Baby in group and show. he continued his winning ways with a Runnerup in group at 8mths beating a BIS winning foxie for it. He inherited his mothers backend which was not the best but had a beautiful Head with Ruff and Topknot and good front, also he had the jack hop which being an Aussie was not a good look. He had a very loving attitude but after his first stud could not be run with other males as he hated them on site, even with the males he had run and played with from baby. He had a forceful in your face attitude and could be a pain sometimes but always up for a cuddle at anytime. He only needed one challenge cert. for his NZ title when I came back to AUS to live as he was under a yr it was not to be. Fin will remain a loving dog in my heart for ever
REST IN PEACE
FIN
=====================================================================
FAYE == "AUS CH TAUFIELD FAYESUPRISE"
13/9/1998 == 5/10/2009
While I was away for a few days a week before Tuppence was due my Friend Faye was looking after her. on the Sun when Faye arrived home she found Tuppence was whelping when I arrived to pick her up I had Tupp and 8 pups to take home. I arrived home and settled Tupp in the whelping box settled the other dogs in their kennels and came back inside to another puppy (total 9) pups grew and went to their new homes one little bitch stayed and I called her "Fayesuprise" after my friend as it was a suprise to have the pups early. I let Faye go at 3/4 mths to Athol & Jenny Gledden to show they had a litter in the mean time and decided to let Faye go when she was about 7/8mths I took Faye home and at her next show she was Minor in Group. a great start to her showing with me. Faye did very well in the ring over the next 3 years and gave me a couple of litters with her offspring doing well in the ring. her daughter Star even went Best in Group at 10mths. Faye at the ae of 4yrs went to live at Sandgate QLD with Joyce Green a lovely elderly lady who was a wonderful painter of horses and dogs. She painted lots of my dogs and they are lovely paintings which I enjoy every time I look at them. Joyce also painted the Best in Show Paintings for the 50th Anniversary Shows of the Australian Terrier Club of QLD 2007 the open show going to Ann Davies (qld) and the champ show going to John Davidson (Rebelglen)vic) In 2008 Joyce was unwell and went to hospital where she suffered a stroke (she is now in a nursing home) and old Faye came home to me. Faye was very lost when she came back and was missing her mum very much. Faye eventually settled in with the family and enjoyed her walks on the farm. Faye had cancer and until a few weeks ago was fine about 2 weeks ago it was obvious that she was starting to be affected by the cancer. a week ago she started to go downhill and by fri was very ill over the weekend she ate nothing and only had water which by mon was vomiting as soon as she drank. So off to the vet on mon morning and Faye is now at rest and out of pain. She will meet Joyce again at the Rainbow Bridge of that I am sure.
REST IN PEACE
FAYE
==============================================================
TRY == "AUS/NZ CH TAUFIELD TRYAGEN"
29-1-1998 == 21-9-2010
Try passed away in her sleep this morning while I was out shopping I came home and found her where I had left her.
Try was a funny wee girl I had a lot of fun with her in & out of the ring she was a showy girl and when she needed only 3 points for her Championship I was at an ag show the only other bitch entered was Woolcock's Jeanette offered to withdraw their bitch so I could finish Try I said thank you but no I want her to earn it. she was the res chall bitch that day but the following week at Durack Try took an 11pt bitch chall and titled Jeanette was the first to congratulat me. Try had her fair share of class in group wins but after titling her I decided to breed with her Try only came in season every 13mths give or take her first mating at 2yrs was a no go with pups (if Try didn't like the dog she would not have pups to them) at 3yrs she gave me 9 pups (1f & 8m) to be repeated the following year her 3rd litter was 8 I was in NZ at the time and sent her to Diane Riley to go to Baxter but Try had other ideas she liked the red dog "Spepe" NZ Ch Melukylan Iso Paha Susi and dug her way into him when Diane went to put her to Baxter she was tied to Sepe they were all B/T (this was the litter I kept Fin & Truly from Diane took a bitch Jazz. Try was a good mum but left me to do the cleaning of pups she didn't see why she should have to lick their bottoms. it was like "you want them you clean them." She was a loving dog and became a house dog at the age of 2yrs and slept with her mother (Muffin) on my bed. I will miss her very much she has been a big part of my life and enjoyed the rides in the car and loved her morning hoons on the farm sometimes coming with me and sometimes just going her own way and being at the back door when I got back with the others Try was sired by my Bouncer out of Muffin she was from a repeat mating and her name came about when I sold "Taufield Kiwi Dream" to Switzerland and I thought here I go again and from that thought I came up with tryagain but spelt "tryagen" call name Try and she was the most trying dog I have ever owned (they say beware what you call your dog) she was a prime example
REST IN PEACE
TRY my beautiful trying girl
==============================================================
MUFFIN == "AUS CH NEGURA THE HEARTTHROB"
2-9-1995 == 29-9-2011
Where do I start Muffin came to me as a 12 week old pup crept into my heart and has now left me with a massive hole. I loved Muffin from the day I saw her at Negura kennels. Thank you George & Beryl for letting me pick this wonderful girl who gave me such memories. She was never a show pony but won well as a great specimen of the breed. She was titled at the age of 9 1/2mths and gave me some womderful wins one time the judge had a squeaker attached to her belt and when she pressed it Muffin looked down at her waist then looked the judge in the face then turned to look at me as if to say "am I supposed to react to that" she never was into squeaky toys in any way shape or form. to animate her in the ring there was only one way and that was for me to whisper "where's the mouse" reaction was instant. Muffin in 1996 took a Puppy In Show and quailified for the inaugural PUPPY OF THE YEAR she gave me some beautiful babies along the way including Kiwi the swaggie and at the age of seven devloped pymetra she was desexed and lived the life of riley teasing the boys right up till the last she would let them mount her then run away. at the age of two she moved into the house and became my house girl. she slept on my bed from that day until the last week of her life when she couldn't seem to be able to jump up. I did put her up on the bed one night but she fell off in the middle of the night and never came back to my bed. I miss my muffin she was 17years 4 weeks old at the time of her death. she gave up the last week and I knew it was time for her I cried myself to sleep that first night without her. but I have to believe she is now at the rainbow bridge and whole again playing with her daughter Try and other offspring who preceded her. children, grandchildren & great grandchildren. I am sure Clif is with her and she will have met up with her best mate Bouncer. Muffin was the matriach of the Aussie clan and with her quiet way bossed them all no-one took advantage of her . She enjoyed her morning hoons every day since we moved here to Crows Nest although the last year she would just go her own way and be at the back door when I returned with the others. she slept a lot but when I got home from the shops she was there waiting at the gate for me hoping I had something nice for her she had a half weetbix every morning while I got my breakfast ready and as soon as I put the hot water on it she smelled it and was there waiting, she really enjoyed her weeties. I could write lots of my Muffin but suffice it to say she was my favourite of all my aussies and will be very sadly missed for as long as I live.
REST IN PEACE
MY DARLING DARLING MUFFIN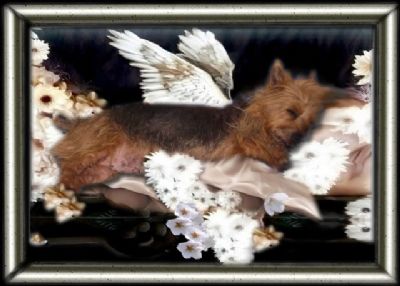 SMILE FOR WE WALKED TOGETHER FOR AWHILE
==============================================================
CLIF == "TAUFIELD MIGHTY MOUSE"
13-5-2007 == 29-9-2011
Clif attacked one snake to many and was bitten this time Clif has killed 5 snakes since the floods I have never had snakes in the backyard untill then and Clif was deadly on them. I came home from the shops and the girls came to meet me but no Clif I called him but he did not come for a few minutes. when I think about it he was killing the snake at the time and I probably distracted him enough for the snake to get him. when he came out from under the house I knew he had had a snake sure enough there it was a very dead black. it was 24hours before Clif had a reaction from it but it was to much for his heart. he came for morning walks and tried to run with the others I had to carry him home his heart just wasn't strong enough this time.
Clif was a lovely cuddly dog he also got jealous of anyone I paid too much attention to and would growl at them He was a very showy dog although grew to big for my liking 11in and was a bit skinny in the body. I prefer a dog with a sturdy type body myself. the judges liked him and he won BOB over other dogs and classes in group as well. as soon as he attained his championship title he was taken from the ring except for the Aussie club shows. I will miss Clif very much and I am not sure who will take over from him in the vermin killing stakes. he had an impressive no of kills under his belt including possums/lizards/rats/mice/snakes/birds and if the Koala would have come down the tree I am sure he would have given it a good go. He was full of himself and just an allround aussie who loved life. Clif sired a litter of pups to his grandaughter they are now 6weeks old. so something of him still lives on.
REST IN PEACE
CLIF my wonderful hunter and snake killer
===================================================================
ASTRI == "NZ/AUS CH CHAS ASTRI MI ASTRI"
14-5-2003 == 8-2-2012
Astri what can I say I wanted a Glen for nigh on ten years. I was in NZ when I saw that there was a glen in NZ I rang the owners and they promised when they were able to get a dog in and mate her I would get a pup. I came back to Aus in 2006 and in feb 2007 I was contacted by the owners to see if I would like Astri I of course said yes and in March Astri arrived in Brisbane. she got on well with the aussies from the outset she loved babies and played with them for hours. although I got semen in for her we lost her first litter and she did not take at the second attempt so I have no offspring from Astri which is a pain in itself. Astri was DNA tested for PRA and was found to be a carrier. Astri was a wonderful specimen of the breed and loved all who she came in contact with. Astri was in season over Christmas /New Year and kept going to the Aussie kennels to let Paddles sniff her but when Liam the glen boy tried to get near her she saw him off very quickly. the second week of Jan I was grooming her when I noticed a teat was lumpy and thought a trip to the vet on tues by tues morning she had 3 swollen teats the vet thought it could be mastitis and treated accordingly after the pills were finished we went back and things were worse one side was just a large very hard lump and she was in pain and could hardly walk the vet treated her differently this time and after another week she was even worse so made the decision to ease her pain. I took her to the vet and we put her to sleep she is now safe in the arms of the Lord and running with all who went before her. I miss her her calm loving self and I know she is whole again with her mate Clif & Muffin
REST IN PEACE
Astri my big lump
MY VERY FIRST GLEN OF IMAAL TERRIER
====================================================================
FAYE == 'CH TAUFIELD FAYES GOLD'
9-2-2008 == 23-5-2014
Faye what can I say about her she was a beautiful pup and was going well in the ring until when she was about 10mths old I had someone come to my place and vandalise my water tanks and let out all my dogs I do not know what happened that day but Faye was traumatised and everytime we went out the gate she would rush around attacking the other dogs from that day she hated men and I could not show her for at least 2 years eventually she accepted male judges but was wary of them she finally got her Championship Title when she was 4yrs old I was the proudest mum that day. she still went crazy outside the gate but the other dogs would just run away and ignore her she was a house dog and slept on my bed. she was loving until the last few months when she was getting nasty all the time and even attacked the young dogs I loved Faye very much but her behaviour was getting extreme and I made the decision to put her too sleep.
Faye gave me some beautiful babies who looked just like her and she was a wonderful Mum
she sleeps with those who have gone before and I am sure she is whole again and free of the trauma of that day . see you at the rainbow bridge Faye
REST IN PEACE
Faye my disruptive beautiful girl
=======================================================================
SONNY == NZ CH AKIBA'S GIFT FROM ZEBULON (IMP USA)
29-4-2013==22-6-2016
Sonny you came into my life at the age of 2yrs after a year in NZ you were a loving dog you could be annoying at times you enjoyed showing and had got to 79pts for your Aus title sadly it was not to be. You hated the other males in the yard from day one except for Paddy who shared your kennel from 8weeks of age. You could be frustrating to say the least when out of your kennel to strut up and down in front of the glen boy telling him how smart you were you really knew how to stir him up as well as Warrior (the aussie) you gave me 2 lovely litters from Princess and Mouse I kept a girl from each litter and Cricket and Midge will carry on your genes in Australia
The accident you had will haunt me for ever but I am glad you did not suffer and you are now running free at the rainbow bridge waiting on the people most important to you
REST IN PEACE
You were a smart full of yourself dog
========================================================================
WART == AUS CH AUS NEUTER CH TAUFIELD WARTS GIFT
10-8-2009==23-10-2019
Wart was truly a gift she was out of Taufield Tribal Wart and NZ/AUS Ch Tasdale Last Gift (Imp NZ) she had the sweetest of natures she was not really a show pony but did it for me she got her Ch title quickly then was mated to produce good solid babies that were showy. she became a house dog and slept on my bed she was the boss of all the dogs with her calmness and no-one ever challenged her. She was my best friend and was always there when I needed her Thank You Wart for being the best she passed away less than a year after I moved to Emu Park and will always remain here She was Neutered at 6yrs and became a Neuter ch very quickly she recieved 14 Neuter in Group wins (only 2 grps were only her) and 8 runnerup neuter in Group she beat some good champions along the way whom also beat her sometimes
REST IN PEACE
You were the sweestest calmest most wonderful girl
THE RAINBOW BRI

DGE
I LIVE AMONG GOD'S CREATURES NOW IN HEAVENS OF YOUR MIND
SO DO NOT GRIEVE FOR ME, MY FRIEND AS I AM WITH MY KIND.
MY COLLAR IS A RAINBOWS HUE, MY LEASH A SHOOTING STAR
MY BOUNDARIES ARE THE MILKY WAY WHERE I SPARKLE FROM AFAR.
THERE ARE NO PENS OR KENNELS HERE FOR I AM NOT CONFINED
BUT FREE TO ROAM GOD'S HEAVEN AMONG MY CANINE KIND.
I NAP THE DAY ON A SNOWY CLOUD WHERE GENTLE BREEZES ROCK ME
I DREAM THE DREAMS OF EARTHING AND HOW IT USED TO BE.
THE TREES ARE FULL OF LIVER TREATS AND TENNIS BALLS ABOUND
AND MILKBONES LINE THE WALKING WAYS JUST WAITING TO BE FOUND.
THERE EVEN IS A RING SET UP THE GRASS ALL LUSH AND GREEN
AND EVERYONE WHO GAITS AROUND BECOMES THE "BEST OF BREED"
FOR WE'RE ALL WINNERS IN THIS PLACE WE HAVE NO FAULTS YOU SEE
AND GOD PASSES OUT THE RIBBONS TO EACH ONE - EVEN ME.
I DRINK FROM WATER LACED WITH GOLD MY WORLD A BEAUTY TO BEHOLD
AND WISE OLD DOGS DO FORM MY PRIDE TO AMBLE AT MY VERY SIDE.
AT NIGHT I SLEEP IN AN ANGEL'S ARMS HER WINGS PROTECTING ME
AND MOONBEAMS DANCE ABOUT US AS STARDUST FALLS ON THEE.
SO WHEN YOUR LIFE ON EARTH IS SPENT AND YOU REACH HEAVENS GATE
HAVE NO FEAR OF LONELINESS, FOR HERE, YOU KNOW I WAIT
Author Unknown